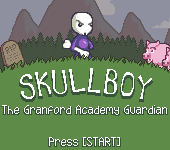 Skullboy
The Granford Academy Guardian
Created by
ChevyRay

---
Last Update
22/Feb/2009
---
Genre
Action Platformer
---
Status
Good :)
---
Download Link
N/A



PROJECT INFORMATION
Wizards.
Practitioners of the arcane art of magic.
Usually, Lolia is a pretty peaceful and uneventful world. This is because most people are sensible enough not to practice, experiment with, or even think about magic.
You see, magic isnít as hocus-pocus simple as it may appear. Magic is deviously unpredictable; a double ó and occasionally triple or quadruple ó edged sword.
But even so, there are always those whose curiosity outstrips their common sense, and even these small examples were enough to cause the occasional historical accident: a sinking island, atomic blast, a shift in time, or even the odd army of rampaging demons.
Which ultimately brought about Granfordís Academy.
Granford Gitlam, rumored the greatest magician of his day, founded the Academy so that those curious individuals could learn the ways of magic in a controlled environment, and with fewer . . . incidents.
But magic canít, by its very nature be controlled completely, and will never be practiced without the occasional disaster.
Granford knew this, and in his dying moments, he used the last of all his energy to summon a mighty, noble being to watch over and protect the Academy as its guardian.
But even the great Granford could not escape the sick irony of magic, and he passed away unknowing that his summoning didnít go quite as planned . . .
And thus Skullboy came to be the Granford Academy Guardian, for all its troubles.



SCREENSHOTS