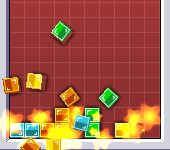 Tetrads
Tetris. Tetrads. Viva la Russia!
Created by
Hyun

---
Last Update
30/Jun/2006
---
Genre
Puzzle
---
Status
25% Complete
---
Download Link
N/A



PROJECT INFORMATION
Tetrads is the spiritual successor to Hyuntris, but so much better in everyway. I've decided to go for a very bright cheery feel to the game. The game also features a pretty cool pinball style fully animated tickertape at the bottom. Both Wolverine and Schu are doing some excellent animations for the tape.
The game will feature the same addictive gameplay as Tetris, but a lot of new features incorporated. There are additional new gameplay modes such as network two player, and hotseat - so you can battle it out with a friend. What will make this more enjoyable is the inclusion of game characters that can fight each other on a platform in between playing fields. They'll also be able to jump into the fields themselves and manipulate blocks! I'm planning to use a mix of famous GM characters plus a few new originals. Also, they'll be variations on the main game such as FireLines. But you'll have to wait to see what that is!



SCREENSHOTS